---
Cypress View
Why choose CVVC for your pet's surgical procedures?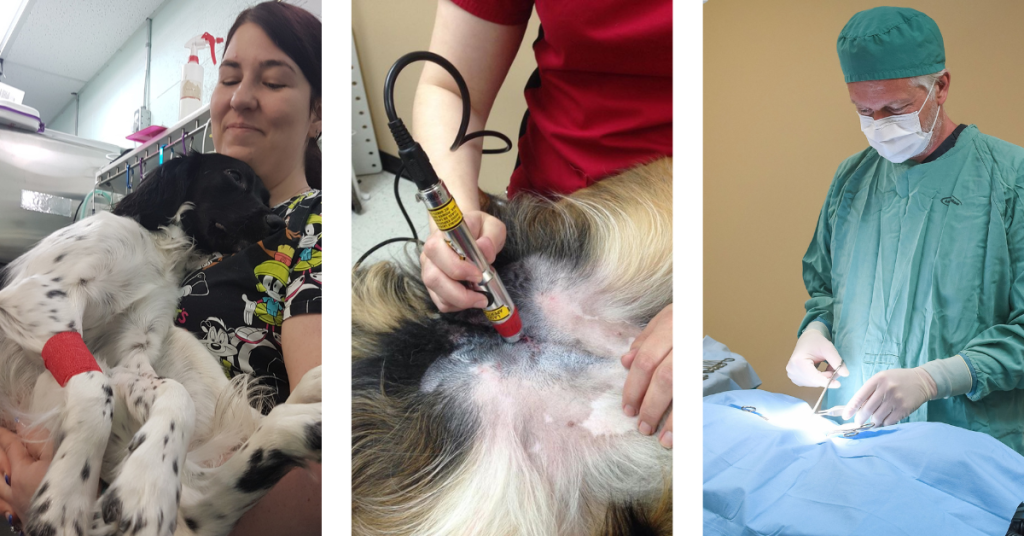 10 doesn't even begin to cover ALL the things we care about during your pet's surgical procedure with us. But here are 10 things that you maybe don't think about when taking your pet in for surgery.
          

Our dogs and cats are kept separately. This has had an enormous impact on our feline patients. Back when we used to have 4 banks of kennels in our kennel room, dogs and cats used to stare across at each other. How terrifying would that be for a cat to be looking at an angry dog, or vice versa? Now, we have a single wall of kennels in our kennel room for cats and have moved all our dog kennel space to our previous dental area which doesn't allow our patients to stare at each other.

          

During our pre surgical check ins we go over our paperwork with our owners. This allows our clients to chose exactly what services their pet is going to receive. It may seem like a long list of questions but by the end of it you will have a completely customized experience for you and your pet that fits your needs.

          

We are always looking for signs of stress and anxiety in our patients. We have become experts in working with pets that would rather be at home. We use methods like distraction, "less is best" restraint, allowing cats to "hide" while handling them, using specific staff members that are confident in gentle restraint for cats or dogs, and giving medications before coming to the clinic to make them feel more comfortable to name a few. We never use rabies poles, cat squeeze devices, gate squeezes etc. Well, that's not entirely true. We have a "cat squeeze". Their names are Jayden and Danica, they'll hug your kitty. We prioritize our patients having a positive experience at our clinic.

          

Pain management is huge here at CVVC. Our patients receive pain medication before their surgery, during surgery, immediately after and go home pain meds as appropriate. We are also well versed in providing epidural anesthesia for our hind leg procedures and local anesthesia for almost every other surgery. Our patients are assessed for pain using a standardized pain scale so your pet will receive pain meds as needed to make them comfortable.

          

We have a whole surgical team to make sure your pet is receiving the best possible care with us. Our surgical team includes 1 vet, 2 technologists and 1 veterinary assistant that care for all aspects of your pet's stay with us. That is a minimum of 4 people caring for your pet as if it was one of our own.

          

Ergonomic positioning. Our technologists are trained to keep your pet comfy while they are asleep for their procedure. Large and giant breed dogs are positioned in ways to keep the stress off their hips while they are asleep. Stress on shoulder joints is also a concern for patients while they are under anesthesia so we are always considerate of patient positioning.

   

    

Warm pets are happy pets. Patients under anesthesia lose the ability to shiver to keep warm. So, it is our job to provide safe, supplemental warmth to them during their surgery. Just like at the hospital, we use warm towels and blankets to provide warmth before, during and after surgery. We have heated surgery tables and warm air machines as well. We also check their temperatures after their surgery to make sure they are
warm.
      For our routine, elective surgeries our doctors place all their sutures under the skin. You don't have to return for an appointment to remove them and your pet is less bothered by them during recovery. It also
results in less scaring.
      We facilitate smooth and natural recovery from their anesthesia. Unless medically necessary we don't reverse their anesthesia drugs because the body is capable of metabolizing and excreting them all on its
own. It is not uncommon to come across a vet tech with a small dog on their lap after anesthesia or a vet assistant sitting with a large dog while they transition into recovery to ensure their comfort and safety.
       We perform a full exam on our patients before they have their surgery. Often we have caught dirty ears with ear mites or infections, dental abnormalities, skin issues, hernias, eye issues, heart murmurs, and sometimes males are females or vice versa. We will call and discuss what we have found with you so that you can decided what course of treatment is best for your pet. And of course, we always love to do their nails while they are sleeping if you would like.
So, in conclusion, if you want your pet to have species appropriate housing, customized procedures and services, as stress free as possible, as pain free as possible, surrounded by a whole surgical team of professionals, considerate of their ergonomic needs, warm and snuggly care, completed with under skin sutures, smooth, safe and natural recovery and whole-body examination during their surgical visits, then we would love for you to consider us for your pet's surgical procedures.
If you are wondering what all this is going to cost, email or message us for one of our price info sheets for the procedure your pet would like to have done. Our association doesn't allow us to post prices publicly.